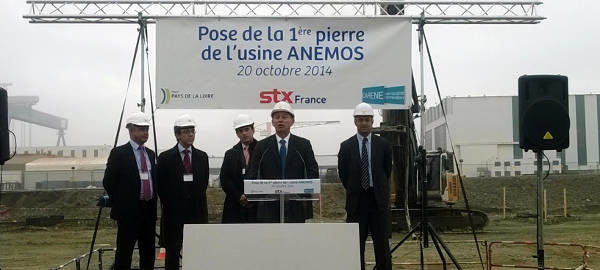 STX France has begun work on the construction of its workshops dedicated to advanced technologies for harnessing marine renewable energy. These production units, located at Saint-Nazaire, will be operational by 2015 and enable the shipyard to respond to future orders for offshore wind turbine foundations and electrical sub-stations.
"This is a decisive step in our plan to break into these new markets," affirmed Laurent Castaing, the managing director of STX France. The industrial group, a specialist in shipbuilding, has invested successfully in the renewables sector. On the 20 October, the first foundation stone of  its new works dedicated to building the components needed for the marine renewable energies.
By the end of 2015 three new facilities will be operational: a building dedicated to the final assembly of sub-components, a pre-installation yard of some 6,000 square metres, and a large volume paint shop. The investment is significant (€20m.*), but a strategic necessity according to the STX director: "There is a huge potential market for the marine renewable energies in Europe, and STX wants to be a leading player in it."
The factory, baptized Anemos, will be fitted out with the latest plant, and enjoy close links with research and development units. "Our mastery of both design and construction on the same site will be a key factor in our future success," said Laurent Castaing.
*STX France has received financial support from the Pays de la Loire Region, Saint Nazaire local authority La Carene, and and the national publicly-owned development bank, the Caisse des dépôts.
Further information: press release