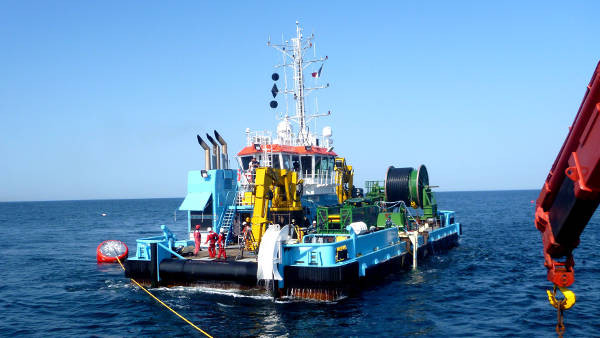 SemRev has just inaugurated its Hub, an underwater system to enable up to three energy production devices to be connected to the national grid. Attaining this significant landmark has required two years of research, and fulfills an important claim: to have become the first French marine test site to be so connected. A cornerstone in the regional strategy for the development of the marine renewables sector, SemRev also expects to be the beneficiary of new investment to enable it to continue to play its part in the future.
It's a turning point in the short history of the SemRev marine experimental site. On the 12 August this year, the Hub reached its final seabed location. After two years of R&D, six months of construction, and six weeks of maritime endeavour, it slipped into the water in only thirty minutes. It's been a long haul task: and represents an important first for France.
From this month, theHubwill enable the various generators that will be hosted at the site to be connected to the grid in perfect safety—and quickly: in only a day. Fitted with a dynamic cable of unprecedented capacity, the Hub will enable the Floatgen floating prototype to add its power to the grid, together with the wave energy generators resulting from the GEPS Techno project.
A resource for education and training
The marine renewable energies are an emerging sector which presents many new challenges. The final phase of the installation of the Hub at SemRev was therefore watched live by researchers eager to ensure that their future R&D projects can meet the realities of full-scale production.
The operation was filmed from every angle using drones and GoPro cameras worn by divers, gathering precious recordings to inform and guide future operators of such devices.
Staying ahead of the game
During the inauguration, the first vice-president of the Region, Christophe Clergeau celebrated the impact that SemRev has had on regional economy, describing it as "a visionary project" which has enabled the Pays de la Loire to steal a decisive march "in the launch of the marine renewables sector". He underlined the creation of hundreds of jobs, the construction of three new factories, and the success that local players have already enjoyed in international markets.
He also announced that SemRev will be the beneficiary of a "new collective bid for the future". The Region plans further finance toward the necessary preliminary studies so that the test site can "respond to the new demands of the sector for testing the vast new marine turbines —both fixed and floating—of up to 10 MW".