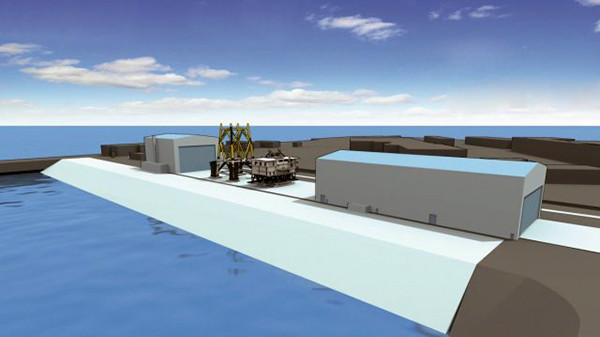 STX is to build a new production unit dedicated to the marine renewable energies, the French shipbuilder announced last Thursday. Based at its Saint-Nazaire site, the factory is the outcome of more than a year of effort by the shipyard to diversify its activities.
A tide of optimism. This October, STX will begin building its manufacturing units dedicated to offshore wind, a project that will consolidate the industrial strengths of the group and open up new markets.
STX France already has a track record in offshore energy following its recent delivery of an electricity sub-station sited off the English coast for the energy company Dong.
The factory's main role will be to produce electrical substations for offshore wind farms. The overall investment: €18m. "We want to be a strong player in the transition to sustainable energy," explained Laurent Castaing, STX France's managing director. "It will also be a "factory of the future."*
Vital support from the region
"We pulled out all the stops for STX, making an enormous effort to convince the banks to finance this new factory," said Christophe Clergeau, the Pays de la Loire Region's first vice-president. "The Region allocated €500,000 to guarantee the bank loans, which gave leverage with the banks, and the Region's agency has invested €1.5m. in the umbrella company Usimer Immo."
"Who would have predicted, only a few years ago, that STX would be building a factory dedicated to marine renewable energy?" asked Clergeau. "This news is grounds for great satisfaction!"
Further information: www.stxfrance.com
* "Factory of the Future" is one of 34 schemes that make up the French government's "New Industrial France" programme.